An unexpected decline in interest in electric vehicles on the Auto Trader marketplace could spell trouble for the Government's green transport plans. Pure electric vehicles accounted for 11.6% of new car sales in 2021, up from 6.6% in 2020[1], but the headline figures tell a misleading story.
Auto Trader, the UK's leading online automotive marketplace, has long been warning that the sky-high price of EVs could derail efforts to wean motorists off petrol and diesel vehicles.
Now, in its latest Road to 2030 report, published today, Auto Trader reveals that the proportion of electric cars viewed on its marketplace has dropped from a high of 26% in late September 2021 when the petrol crisis took hold, to just 16% in February.
Auto Trader receives c.65 million visits to its marketplace each month. Most people are still searching for petrol and diesel vehicles, however interest remains largely flat. The bright spot is hybrid vehicles as they saw very strong growth, increasing from 14% to 20% of all new car searches (up from 9% in February 2021).
The fuel supply crisis in September and October had only a temporary effect on interest in electric vehicles. "We saw a huge spike at the time," said Erin Baker, Editorial Director of Auto Trader, "but in reality, it was just a blip. When the queues outside forecourts disappeared, so did the anxiety."
Whilst the gap between the cost of new EVs and a new petrol and diesel cars has narrowed very marginally, EVs are still 37% more expensive on average. The gap between hybrids and petrol/diesel cars is significantly narrower at 6%. And it's not just brand-new EVs commanding a 'green premium'; there is also a significant differential in the used electric market where EV models are on average £8,000 more expensive than their petrol/diesel equivalents.
"When you look at the demographic profile of people who are currently searching for electric cars on Auto Trader you see it's predominantly older, richer people living in affluent parts of the country, a trend at odds with the 'normal' profile of early technology adopters who tend to be young and metropolitan" said Erin Baker, Editorial Director of Auto Trader.
The Company's Road to 2030 analysis shows that on Auto Trader the number of EV models priced under £20,000 dropped from 11 in 2020 to just three in 2021. It also shows very limited choice within body types. There were, for example, just four new EV models in the saloon category in 2021 versus 36 new petrol and diesel models.
Baker continues: "Sooner or later we will run out of people who are rich enough to buy electric cars, and the latest data from our marketplace could be an early indication of what's to come. It's a canary in the coalmine moment and the Government needs to take notice if it wants to keep the rate of adoption on track for 2030."
With the cost of living set to rocket this year thanks to a hike in NI, soaring inflation and spiralling energy costs, motorists are hesitating about making the pricey switch to electric. A poll on Auto Trader last month revealed that if petrol prices continued to increase, 39% of motorists said it would make them drive less. And with energy prices also significantly increasing again next month, a fifth of people (22%) said those rises would make them less likely to consider an EV.
"Motorists are feeling the pinch from all directions at the moment, and despite positive environmental intentions (the number of people citing environmental reasons for owning an EV has grown from 48% in January 2020 to 56% in August 2021), rocketing energy prices coupled with a large upfront ticket price of an EV doesn't bode well for significant uptake of EV's, said Erin Baker.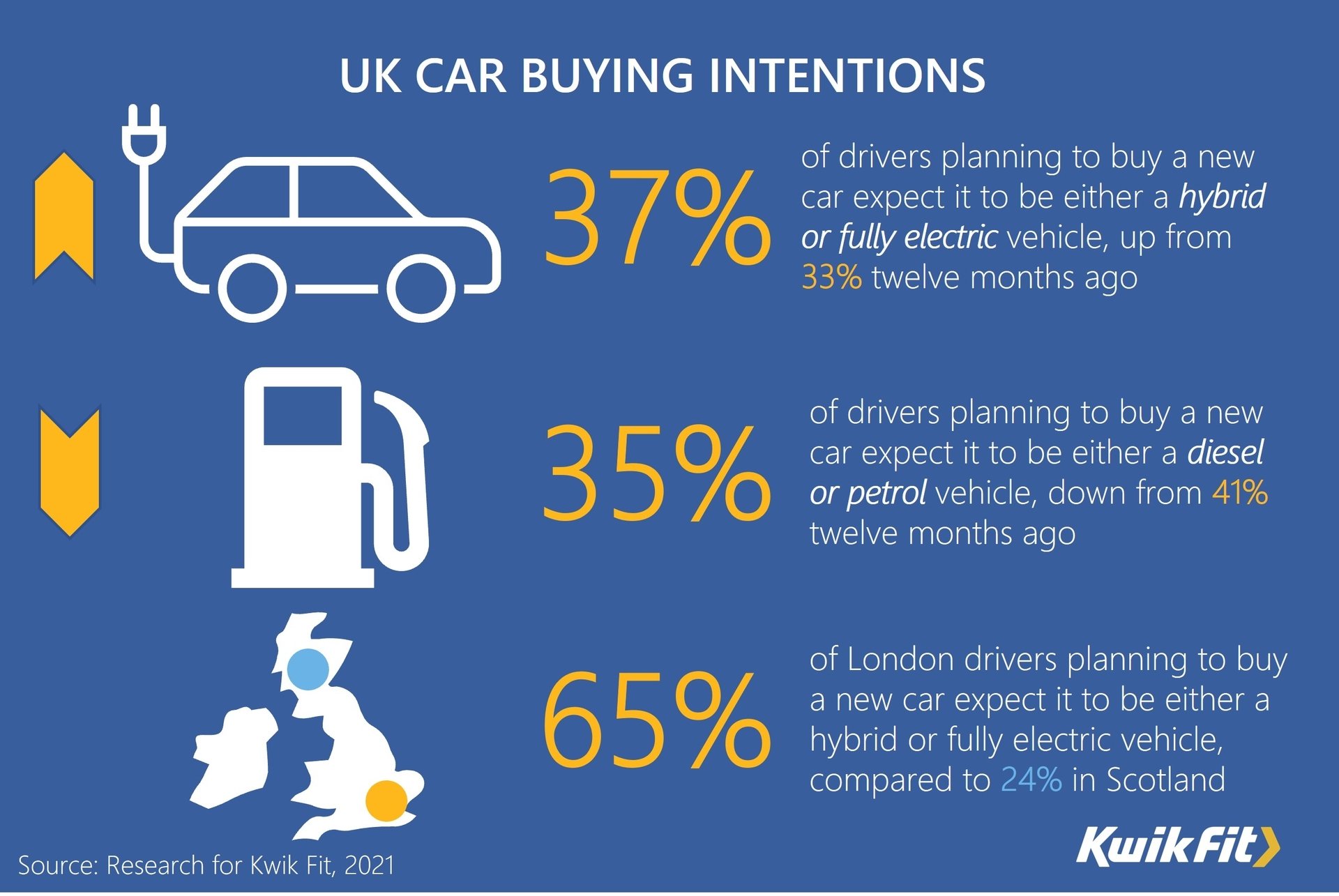 Auto Trader believes that incentives are key to achieving the Government's EV adoption ambitions as they help average earners cover the upfront cost and stimulate the demand needed to make affordable EV production commercially viable.
However, the limited financial incentives on offer to UK motorists are set to be withdrawn altogether, with the Plug-in Car Grant due to end in 2023 and the benefit-in-kind tax break set to stop in 2025. The Government appears to be relying on regulation with plans for a Zero Emission Vehicle mandate, which would oblige manufacturers to make a growing percentage of their fleet electric from 2024. Auto Trader is calling for a package of support for motorists ranging from VAT exemption on EV's to reduced road tax and parking incentives.
"We will all have to keep a close eye on the data," said Baker. "I am concerned that we are in a bit of a bubble at the moment. There are enough wealthy motorists out there to drive sales for now, but if EVs don't become more affordable soon we will, to put in bluntly, run out of rich people and the mass adoption that the Government is banking on will not materialise."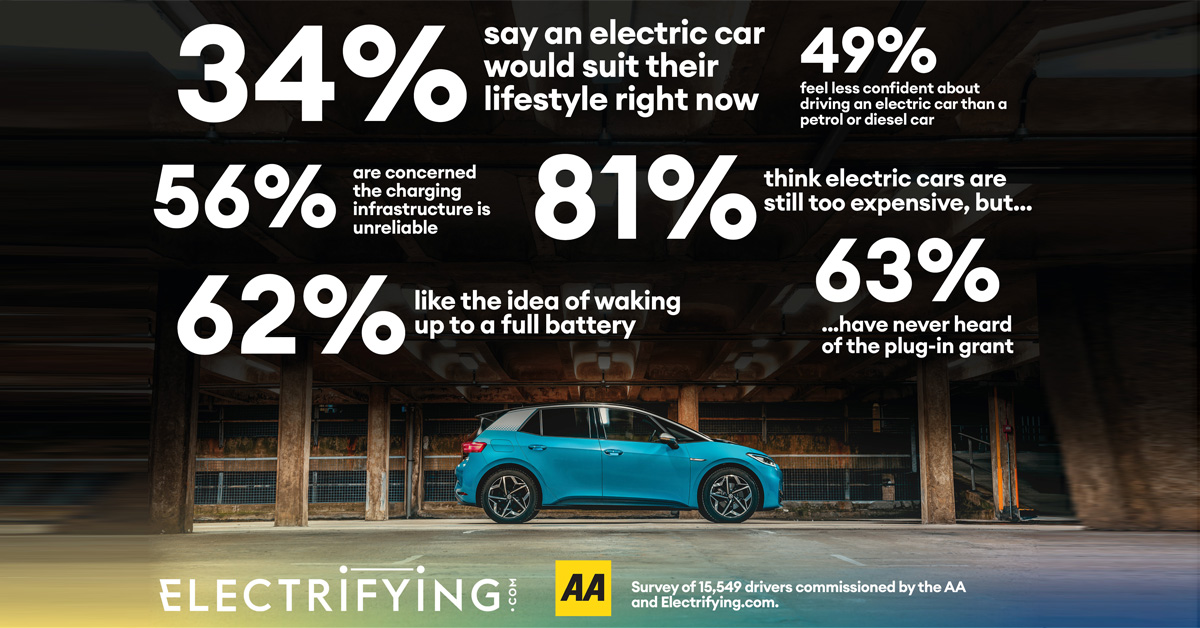 Price is the biggest barrier to purchase, but according to a recent[2] Auto Trader survey, almost half of those surveyed (49%) are put off EVs by a perceived lack of charging infrastructure. Therefore, Auto Trader has integrated an EV charge point location tool into its site. Motorists considering buying an electric vehicle can now locate all the charge points in their area by visiting www.autotrader.co.uk/cars/electric/charging-points/.
[1] SMMT
[2] Onsite survey conducted in September 2021